Clothing and Uniforms for Security: Bolzonella Divise's Solution
Security clothing must meet two main needs. On one hand, it must be functional to the job done by the security guard, who must be ready to move smoothly and quickly in moments of need; on the other hand, this role must have a reassuring image to convey trust and respect to others. 
To satisfy these requirements, it is necessary to focus on the details and on the features that make the uniform a symbol of security itself. In this article we are going to discuss in depth about everything that must be part of security clothing, showing some solutions we provided to clients operating in this industry.  
How to choose the style of security clothing?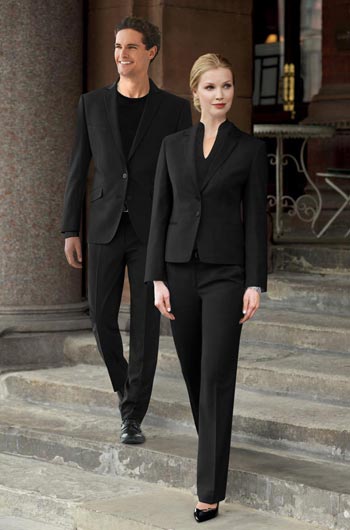 When talking about security uniforms, first of all it is necessary to consider the context where the job is done. A high-profile location or event differs from a more commercial club or venue: these are elements to take into consideration.
The formers require a more elegant and formal choice, to fully match such context. The latters require more visibility, to be visible even in a crowd, and usually uniforms of such kind have a style really close to police officer's uniforms.
What is the best security clothing in an elegand venue?
Concierge, surveillance, or security services in high-profile vanues, as previously mentioned, require a more discreet and formal style. An example of this could be an exclusive shopping centre, a prestigious exhibition or a museum, some historical buildings or V.I.P.'s assistance.
The security agency should choose the employees' clothing bearing in mind what said up to this point. 
There is the need of a trustworthy and professional face in the security service, enhanced by formal clothing. The security guard wears a classic suit, including a suit jacket, trousers and a shirt,  matched with accessories and uniforms, like ties, brooches and elegant scarves.
For a younger and more modern style, the shirt can be replaced with an under-coat t-shirt , a piece of clothing that adds a casual tone, keeping somehow the suit's elegance. 
What about cold months? You can think about adding a pullover and a coat.
What is the best security clothing in a less elegant venue?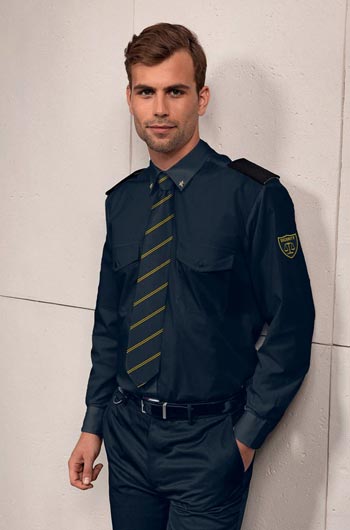 In the circumstance where the security guard must work in public open spaces, they still have to retain a certain formality, with outfits inspired by police officers. That is why there are toggles on the shirt shoulders or patches on sporty pullover. 
However, there are also jobs that take place in private venues. In such occasions the focus is on practicality and comfort.
We therefore suggest a more casual and sporty clothing, that allows to offer the best corporate image possible, but that guarantees comfort and resistance. 
In general, instead of the classic suit, polo shirts and t-shirts are preferible, matched to chino trousers or combat trousers. 
This outfit silhouette is never a perfect slim fit, to avoid any obstacle to free movement, and to guarantee the presence of all the accessories a security guard might need: pockets, metal rings to hang the torch, radio or smartphone. Below you can find an example of this kind of uniform: a simple uniform, however impactful, that conveys respect and, at the same time, offers comfort and freedom of movement to the wearer.
Among the most requested items in this context we find combat boots for personal protection, a kind of footwear that allows smooth and quick movements, and at the same time protect the user.
If the security guard often wear them outside, it is necessary for the uniform to perfectly adapt to the outside temperature. It is for this reason that we opt for a uniform made with a four season fabric, that can hold the heat during winter and be cool when temperatures rise.
What colors to choose for security guard clothing?
It is not by chance that the majority of police force choses dark blue for their uniforms. According to color psychology, this specific hue conveys a feeling of trust and security. A dark blue uniform communicates a sense of authority to the wearer.
Another much used color for uniforms is black. A sense of power and sofisticated elegance is radiated from wearers of uniforms of such color.
Obviously these colors, that we can define as basic, can be attenuate or enriched by details that match the company's image.
What kind of accessories are necessary for uniforms to be recognizable?
Companies and institutes leverage high visibility of security guards to spread knowledge about their brands and strengthen brand awareness among clients. To reach this goal is useful to think about uniform customization. 
One of the most efficient methods is, without any doubt, brand embroidery, smart and elegant, to apply  on the jacket or the shirt. Might it be an embroidery on the fabric or a badge applied with Velcro, it will catch the gaze of the uniform's observer.
To catch the attention in a more discreet and elegant way, metal brooches can be used, to wear on the collar or on the lapel of suit jackts and shirts.
In conclusion…
Security clothing must guarantee the perfect marriage between functionality and balance in this context. It is for this reason that, to have the perfect uniform, it is necessary to trust experts of the workwear industry.
From over fifty years, Cast Bolzonella works in partnership with companies in the security business to offer advice and solutions Made in Italy, of high quality, that can meet the needs of Security Guards: from appearance to comfort, going through fabric resistance.
Do you want a broader view on the solutions you can offer to your emplyees? Find out more on our uniforms for security guards or contact us for advice.