Company uniform washing: what if you could do it at home?
Every day, the uniform communicates to customers and suppliers the quality and values of the company: an elegant and refined uniform is the best business card for those who come into contact with your company. This result is delivered not only by a scrupulous choice of the uniform, but also by a meticulous attention during washing and ironing: the shirt must be changed daily and ironed to perfection to counteract the presence of stains and creases; the dress must always be clean and tidy to ensure a well-kept and professional corporate image. This is why Bolzonella Divise offers specific solutions for the company uniform ensuring an effective home washing both in terms of hygiene and aesthetics: this is why they differ from other uniforms on the market.
Why the type of washing is important
Usually the elegant garments that make up a uniform are very delicate, and require special attention for washing and maintenance.
An incorrect washing risks altering the characteristics of the fabric, ruining the fit and appearance of the entire uniform. It is therefore necessary to ensure proper care for each garment, also to preserve it over time.
The possible solutions are two: the first option is to opt for the dry cleaning at a dry cleaner, with a consequent increase in time and running costs; the second option is to choose uniforms that can be subject to home washing and do not require ironing.
Bolzonella Divise has decided to invest on this last option and to propose uniforms designed to be treated at home.
Suits, shirts and knitwear: what makes them easy care
The fabric is the focal point, as we will see later. It must have features that make it easy to handle, even with a homemade washing machine.
Of course the fibers with which it is made make the difference, but the type of weft and the treatments (called otherwise finishing) also make a significant contribution. Thanks to these treatments, the fabric acquires chemical or mechanical properties that it would not otherwise have.

Here are the features that a uniform should have:
Wear resistance
For a garment to be washable at home, it must be able to withstand washing in a normal washing machine. It is therefore important that its fibers have mechanical strength properties. To verify this, the fabrics of our men's and women's suits undergo the martindale test, which certifies their resistance. Some of them reach up to 100,000 rubbing cycles without showing damage.
Anti-crease
Some fibers, such as polyester, reduce or even eliminate the need for ironing after washing. Other fibers also have this property, such as shape memory wool or, for shirts, some types of cotton with particularly fine weave.
Stretch
The presence in the fabric of elastic fibers, which allow it to stretch and then return to its original shape, makes ironing not necessary, and makes the fabric soft and comforting. Among these fibers we can find Lycra and elastane.
Also some wefts of fabric, such as piquet (which we can find in polo shirts) or jersey (with which knitted garments are made) give elastic properties to the garment.
Stain-resistant
A stain-resistant fabric is also easier to wash at home. Some fibers, such as polyester, are naturally resistant to stains. It is also possible to treat fabrics to make them stain-resistant: for example, treatment with Teflon® makes the fibers water-repellent and does not allow dirt to penetrate the fibers in depth. This makes it possible to obtain clean garments even with low temperature washing cycles.
All these features allow our suits and office shirts and blouses to be comfortably washed at home, without necessarily going for dry cleaning. A great saving in economic terms, but also in time!
Let's see in more detail what to do to obtain the best result from home washing.
Tips for the maintenance of the company uniform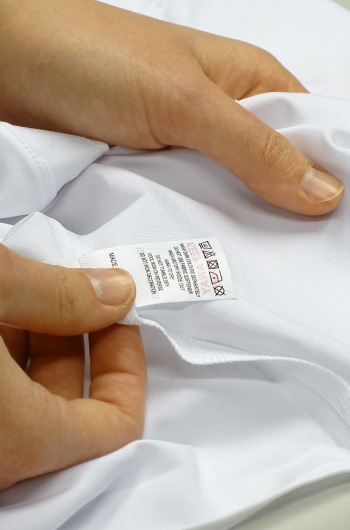 To keep the company uniform beautiful and comfortable over time, it is necessary to have special care before, during and after washing. For both suits and shirts, the first thing to do is to read the instructions on the label that show the washing and ironing instructions of the garment. But there is more.
How to take care of your business suits
Referring specifically to the care of the company suits, it is advisable to brush them to prevent dirt sediment. The suit should generally not be worn more than twice a week and, when not in use, it is better to put it on the hanger, away from other clothing, to make it "breathe".
Wash the suit alone in the washing machine and set a cycle for wool and delicates with a temperature of 30° or 40° maximum, according to the instructions on the label. Always avoid the centrifuge, or set the minimum number of cycles that your washing machine allows. If you want additional protection, you can provide your employees with the Bolzonella Divise washing bag: a mesh bag that will guarantee greater safety to the garment during washing.
Remember to take the garments out of the basket as soon as the washing cycle is finished, and let them dry on their hangers, taking care to spread the fibers with your hands to return them to their original shape.
Once dried, if they need ironing, put a cloth between the garment and the iron, to avoid the appearance of shiny halos on the fabric. If you have the possibility, prefer vertical steam ironing to eliminate creases.
How to treat corporate shirts and blouses
What about shirts? When you don't wear them, always keep them on their hangers to prevent them from creasing. Before washing, rub dry Marseille soap on the occasional stains (for example, on the sweat in the armpits area or in the yellowing on the collar and sleeves) and moisten with warm water. 
During washing, do not exceed the temperature of 30° for synthetic fiber and 40° for cotton and set the program for delicate garments. Minimize (maximum 800-900 cycles per minute) or avoid spinning to avoid bad creases.
When drying, hang the garment on one hanger to limit the formation of wrinkles, and gently spread the fibers with your hands. Once dry, the garment will be ready to be worn, but can still be ironed at low temperature, placing a soft cloth between the iron plate and the shirt fabric.
Attention: each garment has its own needs
It is important to remember that the above advice is valid only on our uniforms, we can not guarantee that the same result can be obtained with suits made in fabrics different from ours. For the care of your garments always follow the instructions on the label!
In the end…
Washing your company's uniform is an essential step that helps to ensure your staff look impeccable over time. This step must combine high efficiency and practicality: washing can also be done with a common washing machine, without altering the characteristics of the fabrics.
Would you like to know in detail the uniforms in the Bolzonella Divise catalog? Discover our corporate uniforms or contact us: our team will be at your side in the choice of the ideal uniforms for your staff.
Did you find this article interesting? Share it!