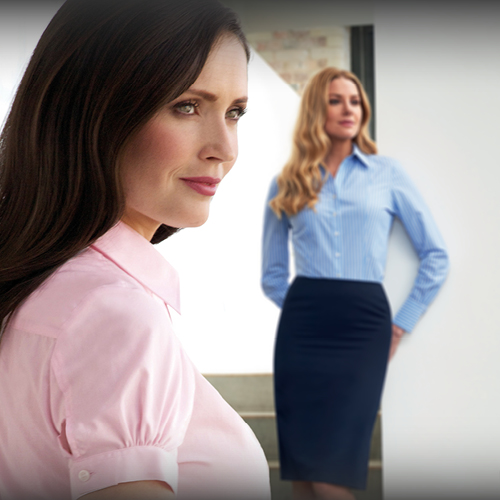 Women's Blouses and Shirts
A touch of Elegance
Blouses and shirts are the female fashion icon for the office, especially when we talk about work uniforms.
It is important to find the right balance between the sobriety required to an elegant uniform and the expression of femininity, mainteining grace and elegance.
We have a wide selection of women's blouses and shirts models, that will allow you to combine office fashion with the style of your employees, valorizing your corporate image and their personality.
There are many details that characterize the garments we have selected for your uniforms. Our shirts perfectly suit to all types of work in contact with the public, but also to office tasks.
How to choose the shirt for your uniforms
Choosing a shirt or blouse for corporate uniforms is a difficult task that must take into account several aspects. You have to consider the type of task and the image you want to give through the uniform. 
For example, you can choose to focus on a more sober look, with clean and simple lines, or more feminine, thanks to details such as a curl on the sleeves or a bow on the collar.
The choice of special buttons on the front or cuff, the use of delicate ruffles or unusual collars can give character to your work uniform.
Fabrics for shirts and blouses
Thanks to a wide choice of fabrics, the shirts and blouses that we propose in this collection offer different fits to suit all physical needs.
Thanks to innovative features, such as no-fitting or cool-dry, our shirts are easy to handle, ensuring maximum comfort and an impeccable look all day long.
Personalised shirts
The high quality embroidery of the logo is a refined detail, but also an excellent branding tool.
Have you not found what you were looking for?
Our collection of ready-to-wear women's blouses and shirts is wide and original, but may not meet all your needs. For this reason we have integrated our offer with the possibility to request fully customized models, from fabrics to patterns.
Fill out the form below, and ask for an offer to have a line of elegant uniforms completely studied and designed for your company. Our Style Office will support you with its experience to customize models, fabrics and tailored details according to your needs.