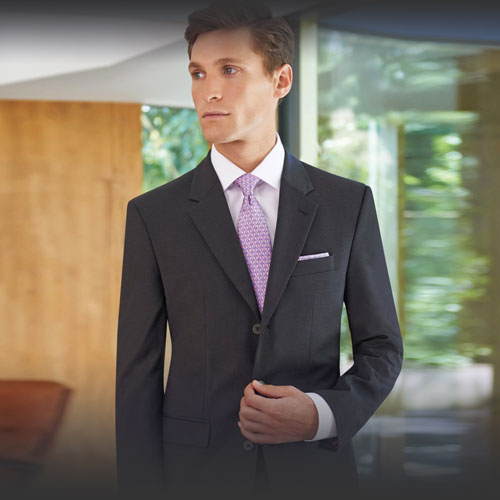 The elegant suits are a classic for those who work in the office or in contact with the public. They contribute to transmit an image of authority and competence, and improve the perceived quality of your product or service.
Vests, jackets, trousers, skirts, dresses: these are all items of clothing that can be combined to dress your employees in an elegant, harmonious way and in line with the character of your company.
How to compose your business suit
Listen to your employees
First of all, you must pay the utmost attention to your employees: they will be the ones who use the uniform and represent your company.
Their outfit must reflect the style of your communication, but above all it must put them at ease so that they can embrace the values you wish to communicate.
You can, for example, choose a more youthful look, choosing slim fit clothes, or a more classic style that better suits every physicality.
If the skirt is a feminine garment of indisputable elegance, your employees may prefer the practicality of trousers, while maintaining a refined look.
Play with details and colours
If it is true that a plain colour uniform is certainly sober, it is also true that the lack of a touch of colour risks making it boring and banal.
You can distinguish your company and enhance the garments of your uniform by choosing details and color points, which will return the uniqueness of your image.
You can recall the colours of your logo on the garments, or add sought after details, such as a tie with a clutch bag, a scarf or a brooch. 
How to choose Tops and Underjackets for your uniforms
The choice of a T-shirt, top or under-jacket for the company uniform must take certain aspects into account. 
It is a strong alternative to the shirt, which gives the uniform a smarter and younger touch, it is necessary that this choice is in line with the corporate image.
You can aim for a simple look, with clean-cut t-shirts and a classic round neckline, or a more elegant one, with a sophisticated neckline top.
The fabrics of the Working Suits
You will be able to choose fabrics made with innovative features, such as the stain-proof treatment, or the shape memory anti-wrinkle treatment. These features will make your uniform impeccable all day long and pleasant to wear.
Every outfit we offer you can be washed in the washing machine at home, to allow you to manage changes more easily.
High quality embroidery
To make your uniform instantly recognisable, you can put your Brand on the garments with high quality embroidery. This is a great way to add a touch of sophistication to elegant suits and strengthen the bond with your brand.