Uniforms for event hostesses: some advice from our experts
The event hostess is the first person with whom people relate during an exhibition or an event: it is therefore evident how event hostesses are, metaphorically, the "business card" of a company in a exposition company's booth. For this reason, the person operating in this position, other than being kind and friendly, must take care of his or her look: make-up, manicure and outfit must all be done. Moreover, the uniform should be comfortable and with style and colors coherent with the company's image and the working environment. Indeed, what should be considered in the choice of clothes for event hostesses? Below we will try to answer this very question.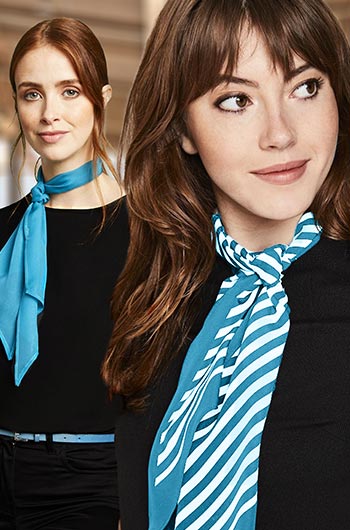 What does a event hostess do?
Until not many years ago, speaking about hostesses, one would immediatly have thought of flight attendant, the person who is in charge for passangers' care and helps them during a flight. In recent times, this term began to be used in the working environment of expositions, congresses and inaugurations, describing female workers helping with the management  and sponsorship of the event.
In the end, who is the event hostess? The event hostess is the female worker who is employed as a representative of a company during an exposition or a private event. Among her main tasks there are:
– welcoming guests;
– handing out informational material (such as pamphlets);
– managing guests, with the aim to give them directions on where to seat, or general information, such as the event programme;
– maintenance: the event hostess helps the team in the setting of the event room or the expo's booth, in recording the guests' personal information and in the resolution of any small unexpected problem that might accur in such occasions.
The event hostess is a dynamic job: standing long hours and being always available for guests, are often required tasks. For this reason, it is necessary that the worn uniforms are comfortable and capable of maintaining a clear and neat look until the end of the working hours.
What kind of clothes are ideal for the event hostess?
Coherence with the exposition theme
In the majority of cases, event hostesses are expected to wear a classic and elegant outfit, exactly because they should offer an impeccable and professional image. However, there are particular expositions, such as the ones dedicated to sports, that require casual clothing, sometimes even sportswear. It is for this reason that, in the uniform choice, it is necessary maintaining the best coherence possible with the exposition theme. Might it be the presence in an exposition or the organization of a private event, the hostess should represent at her best the event's features and the campany's values.
Women suit with skirt or trousers
Women suit is the event hostesses' uniform par excellence, considering that hostesses who work in expositions are required to be quite formal. This traditional-style solution is both elegant and sober and it is ideal to represent the company during the event or exposition. The women suit worn by hostesses is generally composed of an elegant shirt that stands out under a waisted jacket, that can be left opened or buttoned. An alternative to the shirt can be a top, that makes the outfit look more casual and daring.
Regarding the suit lower part, it is possible for hostesses to wear a skirt or trousers. In the first case, it is possible to opt for a piece of clothing that is an evergreen, like the high waist midi skirt; in the second case, it is possible to span between a cigarette trousers and wide-leg trousers, able to create effects of more movement and dynamism.
Referring to colors, the women suit colors are generally dark, but can be made more attractive by customized accessories that recalls the event's logo colors or the corporate colors of the company that held the event. These accessories can be scarves or broaches, elements that matches the uniforms and allow the personnel to be immediately recognizable.
In the uniforms' choice, it is essential to keep an eye on materials and fabrics used to make the women suit: they must guarantee comfort and freedom of movement even after many hours of work. For this reason, it is worth to use breathable fabrics, such as cotton, that is largely used in  elegant corporate shirts. The clothes should be stain resistant and wrinkle resistant, in order to avoid the hostess's impeccable being spoiled in a short period of time.
Beautiful and comfortable shoes
The choice of shoes is important for event hostesses, that must express grace and femininity and, at the same time, should allow girls to work without any discomfort. As we have already seen, whoever does this job spends the majority of the time standing, and is moving frequently from one place to another of the room or of the booth's stand. Shoes for hostesses require to satisfy both aesthetic and comfort needs.
In these situations is not advisable to use stilettos and, instead, to opt for heels not higher than 5 centimeters and with a wide tread, to offer more stability. The chosen shoe is usually monochrome, mathched to the women suit's color, and is generally without hubcaps and belts.
As alternative, for more casual events, it is possible to opt for a sneaker shoe, better if customized.
Ultraresistant tights
During an exibition or a  congress that requires a formal look, tights should always be worn under the skirt, usually nude color tights or black ones, that allow a sober look. Women tights are really delicate and get snagged extremely easily: a wrong movement, long finger nails touching the tight, a shard… and you can wave a goodbye to your tights. For this reason is fundamental to choose always a ultraresistant tight and, anyway, always bring a spare pair.  
Let's not forget, then, that their function can go beyond aesthetic. A good habit is to use reposant tights or graduated compression tights, that help easing the ankle swallowing, familiar to anyone stanging long hours. 
Are you looking for event hostess uniforms?
The outfit for event hostess should therefore consider style: coherence with the company's and the event's style; the choice of shoes, tights and fabric. It is important to value in advance the various accidents that might accur and spoil the hostess look.
Are you looking for event hostesses uniforms? If you want, we can help you in the choice of the best solution to make your staff the best "business card" possible for your company. Do you want more? Contact us: our team will be ready to answer your questions.