Professional uniforms: 7 reasons to choose Bolzonella Divise
The choice of professional uniforms is never to be taken lightly: the clothing worn by staff identifies and differentiates the company on the market, highlighting its values and competitive advantages. At the same time, however, aesthetic taste and coherence with the brand and its characteristics must go hand in hand with comfort and everyday practicality: only in this way the team can feel comfortable in the clothes they wear and work at their best, offering a positive company image to the outside world.
It is precisely because of the delicate role of professional uniforms that, even before choosing the right model, it is necessary to choose the right partner: a team of experts who know how to guide you in choosing solutions that put your company and your staff at the centre of everything. Bolzonella Divise is at your disposal: this is what we can guarantee!
#1 We work in bulk to offer you the best
Savings and quality – a utopian combination? Not so in the wholesale business, where large quantities of goods are handled, thus ensuring maximum savings without compromising on product quality. By relying on our company, you can interface directly with us without the need for intermediaries. You will receive a consultancy service tailored to your needs and you will be able to choose from a wide range of models, which will be customised according to your company's requirements. What more could you ask for?
#2 The starting point: detailed consulting services
In order to offer you the most suitable model for your needs, it is necessary to fully understand your company: our team needs to understand the context in which you operate and the activities that are carried out on a daily basis. Our team needs to understand the context in which you work and the activities you perform on a daily basis. For example, a high heel, however elegant it may look, will certainly not be congenial to all those people who have to move constantly from one department to another in the company.
That's why the starting point of the collaboration is always the consultancy, which translates into a proactive confrontation between the two parts: you tell us your idea and the values that characterise your company; we put our experience at your disposal, indicating the aspects of the uniform to be considered and presenting you with the best project for your reality.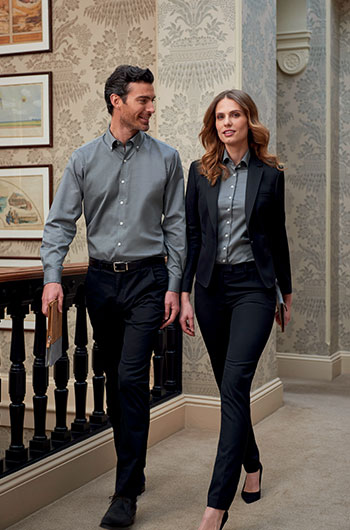 #3 Any special requirement? We are here to satisfy it!
Your company may have special clothing requirements. For example, if you have a security service that spends a lot of time outdoors, in winter it is essential that your staff have uniforms that maintain their body temperature but are not too heavy or bulky. There are also cases where staff have allergies to certain materials and fabrics, which must be taken into account to avoid causing itching and irritation. When you tell us about these needs, we take action to meet them as best as we can. If necessary, we also modify the characteristics of the model of the uniform, creating an article tailored to your reality and your team.
#4 You don't have to imagine anything: there is the graphic design
Once we have collected all the information we need to create the professional uniform for your company, we create a graphic design: this is a real brochure, with which you can immediately see what the final result will be. In this way, you don't have to imagine anything: the company uniform is there, in front of your eyes, and you can request any changes you want to make right away. This helps us to optimise the time taken to produce the product, thus offering you a personalised service with a short delivery time.
#5 You don't have to worry about reordering – we'll take care of that for you.
To ensure that the whole team looks professional, it is essential that uniforms are renewed on a regular basis. However, every company is faced with so many challenges on a daily basis: it can be difficult, amidst managing bureaucracy, phone calls and meetings with customers, to find the time to take care of uniform tidying up. In order to provide you with a comprehensive service and relieve you of additional tasks, our consultants also handle this activity independently. We carry out a weighted average of uniform consumption and pre-order uniforms in advance, so that your staff are equipped with their new uniforms in good time and always look sharp.
#6 We are small, therefore flexible and hyper-responsive
Bolzonella Divise is a small company. For us, this is a source of pride, as it inevitably translates into greater flexibility: a streamlined company structure allows us to adapt perfectly to our customers' requests, even the most particular ones, succeeding in proposing high quality solutions in any context. In the event that we do not have a standard model for your company, we will make a custom product, drawing the prototypes manually. This will not affect the delivery time of the uniforms, which will remain very short.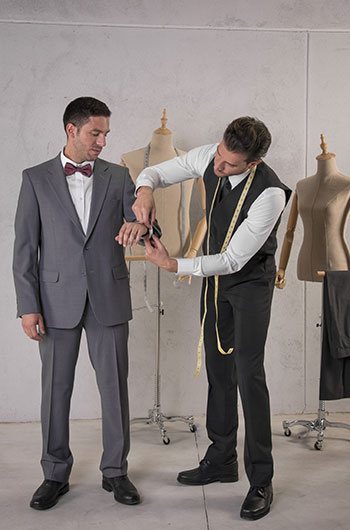 #7 Find the perfect size and enhance every employee
Each person has his or her own physique. For this reason, in order to feel at ease in the uniform, it is necessary that the staff can find the perfect size: there are those who prefer a tighter model and those, instead, who prefer a garment that falls "soft". In order to let the staff choose autonomously the uniform that makes them feel more comfortable, Bolzonella Divise offers to the companies operating in the North of Italy a service of size test. In this way, our consultants take the measurements of the whole team and can propose uniforms that enhance the individual physicality. If your company is located in other regions, don't worry: we will provide you with a complete sample book, with which you can then indicate the sizes of your staff.
Are you looking for a professional uniform for your whole team?
A very complex world revolves around the choice of professional uniforms: the preliminary advice, the choice of model, the size test, the renewal of uniforms by means of reorders and much more. Having an experienced, present and, above all, proactive partner is fundamental in these cases: the uniform selected will be able to perfectly communicate the values of the company, while saving money and time.
Bolzonella Divise can support you throughout this process. If you want to know us better, you can read all our pluses or contact our consultants: we will be happy to answer your questions.
Did you find this article interesting? Share it!